"Describe yourself in three words." We've all heard it an interview, and then most likely clammed up, unable to find even one word. Thankfully, a social media biography isn't as time-pressured as an interview. You're never going to be put on the spot, sweating in your suit while Karen from HR stares you down. These creative bio examples will help you get it right.
A social media bio might give you a few more words than just three, but it can still be intimidating. Getting that balance between businesslike and human can be tough. We're here to share some of our top tips, and creative bio examples to get you noticed. And we mean in a good way.
You Never Get A Second Chance To Make A First Impression
Because, on social media, first impressions are everything. Often, potential followers will take a brief look at your bio and in mere moments decide whether to follow you or not. In fact, it takes less than two-tenths of a second for an online visitor to form an impression of your account. So, it's vital you use that space and platform to really sell yourself, and your business. Think of it like speed dating, but for your business.
All-round awesome guy Tom Hanks gets it.
"I'm that actor in some of the movies you liked and some you didn't. Sometimes I'm in pretty good shape, other times I'm not. Hey, you gotta live, you know?"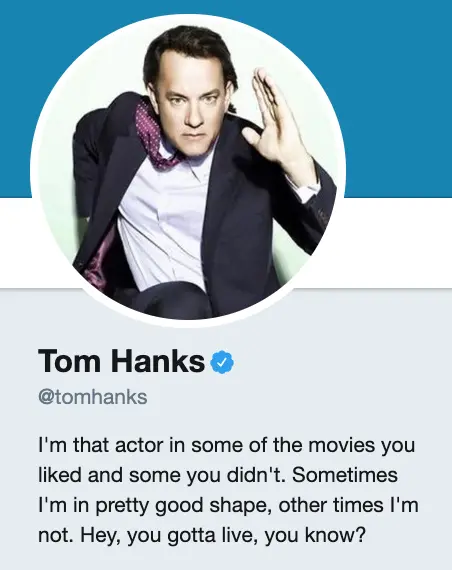 Be like Tom Hanks.
Brevity Is The Soul Of Your Bio
First things first, know your platform (check out Choosing The Right Social Media Channel: Part 1 & Part 2). The space you're given for your bio varies depending on the platform:
Twitter: 150-character maximum
Facebook: 155-character maximum
Instagram: 160-character maximum
LinkedIn: 2000-character maximum
So, it's time to get creative. Think about what it is that your business offers the world. What makes it special? You're never going to be able to fit in all of your achievements. Except maybe on LinkedIn (hello, huge bio space). If your timeline is your content, the bio should be your headline. Let's look at the Social INK Twitter info as a creative bio example. We know, using ourselves as an example isn't exactly humble. But, we'll get to that later.
"Digital Marketing Agency. Social media marketing and content marketing for brave brands & SMEs. #smm"
Simple. Short. Snappy. See?
Don't Be Humble
Ok, so this is where a creative social media bio differs from a creative dating profile. As humans, it's good to be humble. As a business, not so much. You only have milliseconds to sell yourself. So, go big or go home. If you have a wonder-product with amazing reviews, say it. A celebrity or influencer endorsement? Then say it. Awards?
You get it.
Be vocal. Because you only have a small space to explain what sets your business apart, don't waste that on being humble. Big up your brand.
Emoji Your Way To The Top
🐙💖💻 See what we did there? That's emoji for Social INK loves the internet. If you're looking to spice up your bio, it's time to get fluent in emojis. We 💖 a good emoji. Not only is it a quick way to convey your point, but it adds colour to your page/bio/comment. As visual creatures, we love a bit of colour to break up walls of text. Some of the best creative bio examples use emojis to make their social media profiles pop. Take a look at these:
All fluent in emoji.
A word of warning though. You might want to give this a swerve on LinkedIn. Know your audience.
Add A Pinch Of Humour
You don't need to include your favourite joke.
In fact, for the most part you should keep it serious. Get the basics down. Explain what you do, how you're different, and where you're based. But humour shows that you're human. We like that. We refer you again to Tom Hank's bio. Yes, we already used it. But it's the perfect creative bio example.
We also like Sixth Form Poet's:
"Please buy my book, I owe people money."
And John Cleese's:
"Yes, I am still indeed alive, contrary to rumour, and am performing the silly walk in my new app http://www.thesillywalk.com"
Know what they have in common? They're funny. And, they both include a call to action, which leads us onto….
Finish Creative Bios With A Call To Action
We know. Call To Action, or CTA for those in the know, is a bit buzzwordy. But, it works. The whole point of your business having a social media account is to generate leads. The best way to do that? Include a CTA in your social media bio. It shows your customers that you have active, regular, and consistent content. If you're targeting your marketing correctly, it's also going to be of high value to your followers. It can be as simple as:
"To find out more, visit our website: www.socialink.co"
Or, you can regularly update your link and bio to show special campaigns, offers and products.
So, what are you waiting for? It's time to jazz up your social media bio. And no, you can't just steal Tom Hanks' bio. We know it's the perfect creative bio example, but hands off.
Want to talk about how to make your bio a little more creative? Grab a FREE Digital Marketing Consultation to talk about where you're at, and where you want to be.